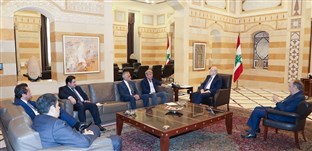 Print
Mikati discusses Qatar's desire to partake in exploration of blocks 4 and 9 with Fayad
Friday, Oct 14, 2022
NNA - Caretaker Prime Minister, Najib Mikati, on Friday held a meeting at the Grand Serail with Caretaker Minister of Energy and Water, Walid Fayyad, and members of the Petroleum Administration.

In the wake of the meeting, Minister Fayad revealed a Qatari desire to join the gas exploration team of blocks 4 and 9.

"This Qatari desire has been expressed through a letter from His Excellency, the Qatari Oil Minister, Saad Al-Kaabi, in which he expressed the intention of the sisterly State of Qatar to join the alliance that will explore Blocks 4 and 9," Fayad said, adding that "Qatar will become the third partner alongside "Total" and "Eni" in these two fields."

The Energy Minister deemed Qatar's proposal of extreme importance, especially looking at Qatar's investment capacity.

Mikati then chaired an educational meeting in the presence of Caretaker Minister of Education, Judge Abbas Al-Halabi, and Minister Plenipotentiary at the Embassy of Iraq in Lebanon, Amin Al-Nasrawi, and other senior officials. The meeting discussed the affairs of Iraqi students in Lebanon.

It was agreed to set up a new mechanism, and to set periodic meetings between the embassy, ​​the Iraqi cultural attaché in Beirut, and the Ministry of Education, to overcome any obstacles or problem facing Iraqi students in Lebanon.

The Prime Minister separately met with Caretaker Minister of National Defense, Maurice Sleem, and Caretaker Minister of Tourism, Walid Nassar.
more videos
مقابلة مع الرئيس نجيب ميقاتي على قناة المؤسسة اللبنانية للإرسال