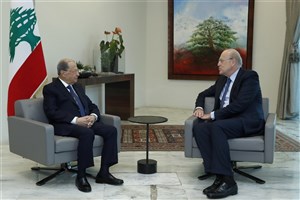 Print
Mikati names Mustapha Adib for premiership
Monday, Aug 31, 2020
NNA - Former prime minister Najib Mikati has named Mustapha Adib to form the new government.

President Aoun had started the binding parliamentary consultations at Baabda Palace by meeting with Ex-PM Najib Mikati, who said after the meeting: "I had the honor to meet His Excellency the President within the framework of the binding parliamentary consultations, especially after the great disaster that occurred on August 4, we are all aware of this matter and we know that a single person cannot get out, as the old saying goes, from the well. The situation is very difficult and we have many challenges and we want to be all one hand. But in the end, we have today, options, and I called Dr. Mustafa Adib, Lebanon's ambassador in Berlin, to carry out a mission to be at the head of a working group and head of the government, so that this team, along with its competent ministers, would be able to do the required work in this very difficult stage. A single person cannot be alone and face all difficulties, but if the work team is fully integrated and in harmony with each other and includes specialists, then we can prepare the Lebanese, at that time, with a promising future".

In response to a question, he replied, I spoke with His Excellency the President also about the fact that time has a great price, and it is enough wasting the opportunities. A person has been chosen and I hope that the government will be formed as soon as possible.  The president who will be appointed, who I hope will be Dr. Mustafa Adeeb, will then consult with the parliamentary blocs to form the government and present the formation to His Excellency the President.

Question: Will the government be a government of national unity because once Dr. Adib is chosen, this means that it is not political?  He replied: We chose Dr. Adib in order to be a message that we want a government and to allow the political work for politicians. We have basic daily reforms in the country, do we want to confront it or not?  Do we face it by saying, gossip, social communication, or with serious work?  This is what is needed nowadays.

In response to a question about who proposed Adib's name, he replied that in our meetings as former heads of government, we reviewed a large number of names and found that they all have the capabilities to be at this stage.  We have kept the discussions in these meetings confidential throughout this week. He is close to me and I have the honor to do so, but the one who put forward the name is Prime Minister Saad Hariri.