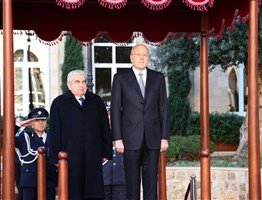 Print
PM Mikati, Christofias tackle means to keep cooperation active for both countries' best oil interests
Thursday, Jan 10, 2013
NNA - Prime Minister Najib Mikati confirmed Thursday, during his meeting with the Cypriot President Demetris Christofias, that cooperation between Lebanon and Cyprus should be incessant, especially at the level of benefiting from the underwater oil and gas resources.

Mikati highlighted the deep-rooted bilateral relations and the need to promote cooperation at various levels. He did not fail to mention the heartfelt relations between the two countries and Cyprus' hosting to thousands of Lebanese in the last war against Lebanon.

The Cypriot President, for his part, saluted Lebanon's stances vis-a-vis the Syrian crisis and praised the great efforts exerted by the Lebanese government to rescue and assist the displaced Syrians. Christofias noted that his country will act, within the European Union, to provide Lebanon with additional aid amid this humanitarian crisis.
more videos
تصريح الرئيس نجيب ميقاتي بعد لقائه رئيس تيار المردة سليمان فرنجية