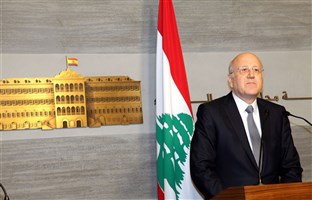 Print
PM Mikati announces cabinet's resignation
Friday, Mar 22, 2013
NNA - Lebanon's Prime Minister Najib Mikati has announced the resignation of his cabinet, citing divisions on several issues, and called for the formation of a national unity government to rescue Lebanon.

"Today, I announce the resignation of the cabinet in the hope it will open the way for a solution to the major political blocs to take responsibility and come together to bring Lebanon out of the unknown," Mikati said at a news conference at the Grand Serail on Friday evening.

Mikati's resignation came hours after President Michel Sleiman had adjourned the cabinet session, a move that was triggered by a sharp political rift between Ministers over the formation of an elections supervision committee, as well as some minister's utter refusal to even discuss the extension of ISF chief, Ashraf Rifi's mandate.

In his resignation address to the Lebanese, Mikati said the country's mounting political crisis could only be resolved via National Dialogue.

"There is no salvation for Lebanon except through dialogue that can pave the way for the formation of a salvation government," the outgoing Prime Minister said.

He went on to recount the times when he had previously contemplated resignation.

"I decided to resign twice during my mandate. Once over the conflict-ridden issue of funding Lebanon's dues toward the Special Tribunal for Lebanon, and the other was following the assassination of Information Branch Chief Brig. Gen. Wissam Hasan," Mikati said, hoping his third and final resignation would get both sides of the Lebanese political divide to share equal responsibility seeking means to salvage the nation.

Mikati formed his 30-member cabinet on June 13, 2011, months after the collapse of former Prime Minister Saad Hariri's government and in the wake of the uprising in Syria.
more videos
لقاء خاص مع الرئيس نجيب ميقاتي على قناة TRT عربي