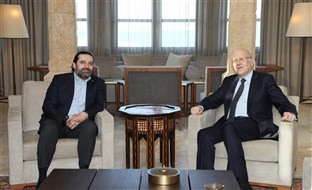 Print
Hariri and Mikati call on Tripolitans to vote for the unity of the city
Friday, Apr 12, 2019
NNA - The President of the Council of Ministers Saad Hariri visited Former Prime Minister Najib Mikati in Tripoli, with candidate Dima Jamali.

After the meeting, Mikati said: "The meeting with Prime Minister Hariri addressed the concerns of Tripoli, its importance and how it can play a key role in Lebanese politics, development and reconstruction. I confirmed that the step I took, the unity that we see today, is based on two things: supporting the premiership to preserve the balance in the country, and at the same time to have Tripoli in any future program because Tripoli is the basis for supporting the premiership.

In the next 48 hours, we will have a by-election in Tripoli. We ask our people to vote for this unity, which is the source of confidence and happiness for all citizens."

Hariri said: "It is an honor for me to be among you today, and with you, especially since we have the by-election. All of us stand together in favor of Tripoli and Dima. We all have to vote for Dima Jamali, so that we can work for Tripoli.

There is no doubt that over the past years there have been political divisions between me and PM Mikati. This caused a delay in many things in the country, in addition to the divisions that were taking place in all of Lebanon. Today we decided to support the institutions, restore political work, and work together to advance the country. There are major challenges waiting for us. Lebanon needs the cooperation of all the parties so we can get out of the economic and financial crisis. We must also take basic reformative measures to encourage the world to return to Lebanon and invest."

He added: "As for the development of Tripoli and the North, it is essential in CEDRE. We heard in the past days talks about the share of Tripoli and the North from the CEDRE Conference. Tripoli is part of Lebanon so when we put all the projects on the table and worked with the World Bank, we dedicated project to all of Lebanon. If we think that people will come and invest in our country without real reform and real austerity to prevent corruption, we are wrong, and no one will come to us to invest. On the issue of the economic zone, I do not want to speak with sectarian or doctrinal logic. In every world, in any country, there is one economic zone, and it is based on economic feasibility. If the economic zone existed today in Tyre, for example, Batroun or anywhere else, I, Saad Hariri or PM Mikati, would not allow ourselves to establish other economic zones because it is useless. The problem today is that, because there is an economic zone in Tripoli, some want to establish an economic zone in another area. In the end, instead of doing good for the country, we are spending money that is of no use to the region or Lebanon. It is true that this economic zone is in Tripoli, but it benefits all of Lebanon. There is no region in Lebanon that will not benefit from the economic zone in Tripoli. There are industrial zones that we approved in the Council of Ministers in the Bekaa, Akkar and other regions. We have to invest in these zones and increase their number, because they really benefit the Lebanese citizens and industrialists and create jobs. It is time, after the enactment of the PPP law, to implement it in all regions, for example, the Rashid Karami fair, one of the most beautiful areas where investment can take place. I would like to say that in order to have an investment in Tripoli, there should be political stability, and that is what is happening. Therefore, we have taken a decision, PM Mikati, the other leaders and I, to continue in this path together, because it is the only way to benefit Tripoli."

Question: What do you say to all those who say that you only visit Tripoli before elections? And that you make development promises and don't implement them?

Hariri: It took us nine months to form the government, and even if I visited Tripoli in this period, I could not have set up projects. This government is barely two months old.

If the government had been formed a month after the elections, believe me, you would have seen me a lot more in Tripoli, and there would have been more projects for the city. But we still have three years, and you will see Saad Hariri in Tripoli, Tyre, Baalbek, Hermel, the Western Bekaa, Minyeh, Denniyeh and Zghorta.

Question: What do you say to citizens who do not want to vote?

Hariri: I would like to say one thing. The Lebanese citizen must realize the value of his vote. Look at what happened in the Arab world and the Arab Spring. I say to every Lebanese citizen and Tripolitan, if

Saad Hariri cannot accomplish what he promised, do not vote for him. But vote, because that's what changes the country and political life. After the death of my father, there was a sharp division in the country, and we did not talk to each other. Today, we hear each other and work together. There are still serious political differences, on the regional issue for example, and Hezbollah and I cannot meet regionally on the same political principle. But this does not mean that the Lebanese citizen should pay the price, and we have agreed with the other parties to put these things aside, and to focus on the interest of the Lebanese citizen.

Question: Are you afraid that this alliance would be political without being translated in the ballots?

Hariri: I am not afraid of that, but I say frankly: There is no doubt that the relationship between me and PM Mikati has passed through difficult stages, as happened with Major General Ashraf Rifi, but this is normal in politics, and one has to have the courage to look at the interests of the country, the interest of the citizen, and the interest of politics. PM Mikati certainly has his political ambition, and this is his political right and this is democracy. We all change and we all learn from our mistakes, and it is important not to repeat our mistakes and work for the sake of the country.

Question: Will Dima Jamali be elected again?

Hariri: This is what we want, and we hope that the people of Tripoli will understand the importance of this battle and that all we want is the interest of Tripoli.

Mikati held a lunch in honor of Hariri in the presence of figures from Tripoli.
more videos
كلمة للرئيس نجيب ميقاتي بمناسبة العام الجديد