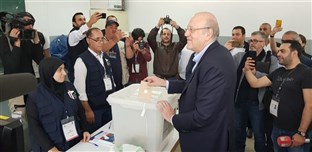 Print
Mikati casts his vote in Tripoli, says alliance with Future Movement clear as the rising sun
Sunday, Apr 14, 2019
NNA - Former Prime Minister, Najib Mikati, exercised his voting right in the Tripoli parliamentary sub-elections at noon today at the Hassan al-Hajjeh public secondary school.

"Any democratic action is positive, and I think that the electoral process is going well," said Mikati after casting his vote.

"As for the voting percentage, these sub-elections are the 41st in Lebanon's modern history, and if we were to track the history of sub-elections in Lebanon, we would realize that the voting turn out is very low, unless competition exists between two teams, as was the case in 2007 between the Free Patriotic Movement and the Kataeb Party," Mikati explained.

Responding to a question about his new alliance with the Future Movement, Mikati said: "Politics is malleable, not rigid, and when we were in conflict, we had our reservations...Today, in wake of our consensus and our determination to address Tripoli's development needs and help it play its developmental role in the region, we have agreed to accord the government the opportunity over the next three years to give Tripoli what it deserves."

"The goal is not to win an additional parliamentary seat, although we have the ability to do so, but our main concern is the city first and foremost," added Mikati, confirming that his "alliance with the Future Movement is as clear as the light of the rising sun today."

On his message to the people of Tripoli, Mikati said: "We will continue to monitor the work of the government, which is our parliamentary role." However, he stressed that "the primary role is for the authority to give Tripoli what it deserves within the stipulated deadline; otherwise it would be at loss."

He also called on the opposition to "express their views in the ballot box, which is the beauty of democracy."

Mikati expressed satisfaction with the participation of "Al-Azem Movement" in the electoral process and its follow-up on electoral machines, noting, "The participation rate was 30 to 35 percent and I am pleased with the performance."

"Today we are all united, enough of fragmentation! Today all of us deputies will demand the state authority to carry out its role and we will hold it accountable," Mikati asserted, adding, "It is time for Tripoli!"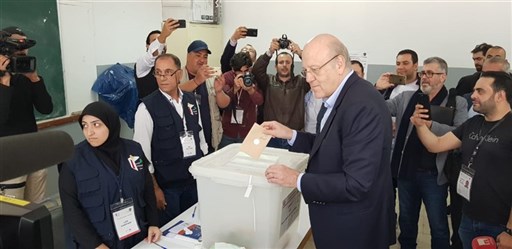 PM Mikati voting in Tripoli
more videos
تصريح الرئيس نجيب ميقاتي بعد لقائه رئيس تيار المردة سليمان فرنجية