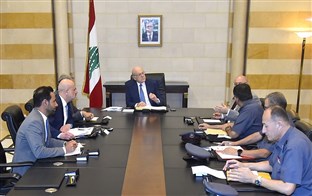 Print
Mikati chairs meeting over prison conditions
Thursday, Oct 13, 2022
NNA – Caretaker Prime Minister, Najib Mikati, on Thursday chaired at the Grand Serail, a meeting devoted to discussing the condition of Lebanon's prisons.

The meeting was attended by Caretaker Ministers of Interior and Municipalities Judge Bassam Mawlawi, Justice Henry Khoury, and Public Health Dr. Firas Al-Abiad, as well as Director General of the Internal Security Forces, Major General Imad Othman, Head of the Central Administration, Brigadier General Hussein Khashfeh, Roumieh central prison commander, Colonel Majed Al Ayoubi, and Interior Minister' Bureau Chief Lt. Col. Ayman Mashmoushi.

On emerging, Caretaker Minister Mawlawi said that the meeting discussed prison conditions and the main problem related to overcrowding.

"We discussed the prison situation in detail, and the Minister of Health confirmed that there are no cholera cases recorded inside prisons, and all necessary measures and procedures will be taken to sterilize foodstuff and water."

Minister Mawlawi also indicated that work is underway to solve the problem of prison overcrowding.
more videos
لقاء خاص مع الرئيس نجيب ميقاتي على قناة TRT عربي