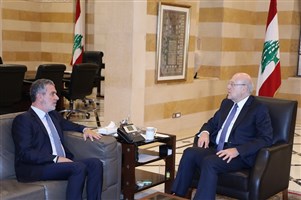 Print
Mikati holds series of meetings at Grand Serail
Monday, Oct 17, 2022
NNA – Caretaker Prime Minister, Prime Minister-designate, Najib Mikati, on Monday held a series of meetings at the Grand Serail.

In this context, the PM-designate met with Caretaker Minister of Tourism, Walid Nassar.

The pair reportedly discussed the current general situation and an array of ministerial affairs.

Mikati also received Moroccan Ambassador to Lebanon, M'hamed Grine, with whom he discussed the means to bolster the bilateral ties in various fields.

Premier Mikati also received at the Grand Serail, MP Elie Khoury, who said on emerging that they discussed an array of developmental and daily living affairs related to the city of Tripoli, including the
months-long water crisis, as well as the issues of landfill and slaughterhouse.

On the other hand, PM- designate Mikati received respectively MPs Walid Baarini, and former MP Bahia Hariri.

Mikati later met with General Security Chief, Major General Abbas Ibrahim, at the Grand Serail.
more videos
مقابلة مع الرئيس نجيب ميقاتي على قناة المؤسسة اللبنانية للإرسال