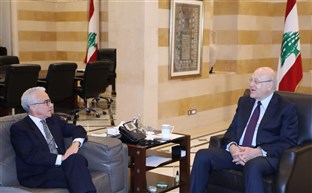 Print
Mikati congratulates Iraq's new Prime-Minister, meets Brazilian Ambassador
Tuesday, Oct 18, 2022
NNA – Caretaker Prime Minister, Najib Mikati, on Tuesday contacted Iraqi Prime Minister-designate, Mohammad Shiaa al-Sudani, and congratulated him on assuming his designation post.

Premier Mikati wished Al-Sudani success in forming the next Iraqi government, and wished the brotherly Iraq further "peace and stability."

In turn, Al-Sudani affirmed that the next Iraqi government will "strengthen Iraq's relations with its brethrens in the Arab countries, and will develop mutual cooperation mechanisms through further programs and agreements."

On the other hand, Mikati received at the Grand Serail Brazilian Ambassador to Lebanon, Hermano Telles Ribeiro, who came on a farewell visit upon the end of his diplomatic mission in the country.

Mikati thanked the outgoing Brazilian Ambassador for his undertaken efforts to strengthen the Lebanese-Brazilian relations.
more videos
مقابلة مع الرئيس نجيب ميقاتي على قناة المؤسسة اللبنانية للإرسال