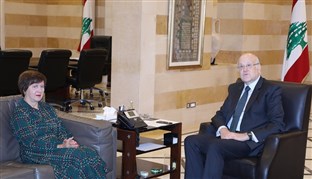 Print
Mikati tackles fresh developments with UN's Wronecka, Canadian Ambassador
Wednesday, Oct 19, 2022
NNA - Prime Minister, Najib Mikati, on Wednesday welcomed at the Grand Serail United Nations Special Coordinator for Lebanon, Joanna Wronecka, who said on emerging that her meeting with Mikati had been an opportunity to hold a horizon tour over fresh local and regional developments.

"I've also seized the opportunity to congratulate Prime Minister Mikati on the completion of the maritime demarcation file," Wronecka added.

"We always encourage the formation of a new government, and we value the efforts of Premiere Mikati in this regard. We've also discussed reform laws and parliamentary activities, especially with regard to the banking secrecy law. We encourage the implementation of reforms in accordance with Lebanon's agreement with the International Monetary Fund, and we must be positive for the country's best interest," Wronecka added.

Mikati separately welcomed Canadian Ambassador to Lebanon, Stefanie McCollum.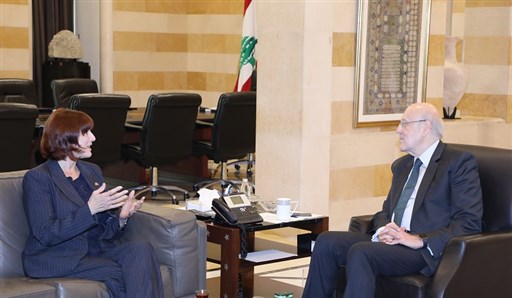 Canadian Ambassador Stefanie McCollum
more videos
مقابلة مع الرئيس نجيب ميقاتي على قناة المؤسسة اللبنانية للإرسال