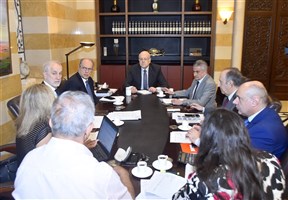 Print
Mikati chairs meeting over 2023 state budget
Thursday, Oct 20, 2022
NNA - Caretaker Prime Minister, Najib Mikati, on Thursday chaired at the Grand Serail a meeting devoted to discussing preparations underway for the 2023 state budget in the presence of Deputy Prime Minister Saadeh Al-Shami, Caretaker Minister of Finance, Youssef Khalil, and other concerned officials.

Mikati separately welcomed MP Michel Daher.

Moreover, Premier Mikati met at the Grand Serail with Caretaker Minister of Education and Higher Education, Abbas Al-Halabi, in the presence of former MP Bahia Hariri.

The PM also received at the Grand Serail Lebanon's General Security Chief, Major General Abbas Ibrahim.

On the other hand, Mikati patronized the annual ceremony for the distribution of scholarships for high school distinguished students, which was held at the Grand Serail, at the invitation of the National Council for Scientific Research.

In his delivered word, Mikati addressed the Lebanese youth and distinguished students, saying "You, young women and men, are Lebanon's hope and you are drawing the horizon for excellence," adding, "You are main partners in role and responsibility and in building the nation through dialogue and consensus."

The ceremony was attended by Caretaker Ministers of Education Judge Abbas Halabi, Public Works and Transport Ali Hamieh, Agriculture Dr. Abbas Hajj Hassan, and Information Ziad Makary, former MP Bahia Hariri, Secretary General of the National Council for Scientific Research Dr. Tamara Al-Zein, Secretary-General of the Council of Ministers Judge Mahmoud Makiya, in addition to scores of ambassadors, director generals, university presidents and the honored students.
more videos
مقابلة مع الرئيس نجيب ميقاتي على قناة المؤسسة اللبنانية للإرسال