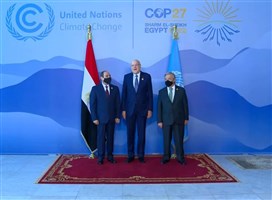 Print
Mikati meets Egypt and Iraq Presidents, PM of Pakistan
Monday, Nov 07, 2022
NNA - Caretaker Prime Minister Najib Mikati has arrived at the Red Sea Resort of Sharm El Sheikh in Egypt to partake in the 2022 United Nations Climate Change Conference, COP27.

Mikati was received by Egyptian President Abdel Fattah El-Sisi and UN Secretary General Antonio Guterres.

Mikati had earlier met with his Iraqi President Abdul Latif Rashid, and discussed the means of cooperation and bilateral relations between Iraq and Lebanon.

He also held talks with his Pakistani counterpart Shehbaz Sharif over the means to develop the bilateral ties.

Mikati later met with the Managing Director of the International Monetary Fund, Kristalina Georgieva.
more videos
مقابلة مع الرئيس نجيب ميقاتي على قناة المؤسسة اللبنانية للإرسال