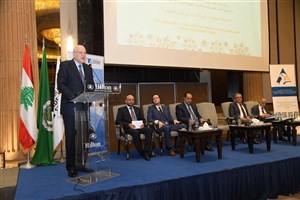 Print
Mikati: Some sides are professing their will to paralyze the government
Thursday, Nov 10, 2022
NNA – Prime Minister Najib Mikati on Thursday accused some sides of seeking disruption and preventing the government from assuming its mission.

"They are professing their will to paralyze the government," he charged. "Yet this disruption and paralysis will only harm the country and the citizens," he warned.

"Our government is currently performing its constitutional and national duty pending the election of a president of the republic," Mikati said.

"Implying to the public opinion that the government wants to replace the president or confiscate his powers is deception and hypocrisy," he added. "Those making such accusations had best assume their constitutional duty and elect a president at the parliament, instead of insisting on impeding the (presidential) juncture," he said.

Mikati made these remarks during his sponsorship of the opening session of a workshop for the heads of the Arab and European judicial councils and cassation courts, at Habtoor Grand Hotel.
more videos
لقاء خاص مع الرئيس نجيب ميقاتي على قناة TRT عربي