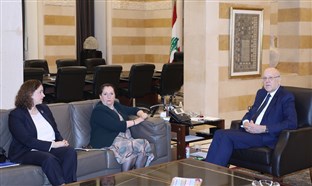 Print
Mikati broaches developments with Grand Serail itinerants
Wednesday, Nov 16, 2022
NNA - Caretaker Prime Minister, Najib Mikati, on Wednesday welcomed UN Assistant Secretary-General and Director of the United Nations Development Programme Regional Bureau for Arab States,Khalida Bouzar, in the presence of UNDP Resident Representative in Lebanon, Melanie Hauenstein.

In the wake of the meeting, Bouzar made it clear that "the first and most important objective of the visit" was to discuss the launch of the Arab Human Development Report, noting that this report will be launched for "the first time in the Arab region."

Bouzar added that the second aim of her visit to Mikati was to get a closer look at the status of the support that the UNDP had been extending to the Lebanese government and people.

"We've also discussed the United Nations Development Program's new strategy (2023-2025), which aims to support reforms, renewable energy, and crises mitigation. This strategy will be presented to the Executive Board of the United Nations Development Program next January," Bouzar explained, adding that the strategy's annual budget is approximately $80 million.

"We've also seized the opportunity to discuss how the United Nations Development Program can support the reforms that Lebanon has been carrying out alongside the International Monetary Fund, as well as the means to support renewable energy projects, which shall improve the environment, provide job opportunities for the youth, and reduce migration," Bouzar concluded.

Caretaker Premier Mikati then received Russian Ambassador to Lebanon, Alexander Rudakov, who conveyed to him the greetings of the Russian leadership, and handed him a personal letter from Russian Prime Minister, Mikhail Mishustin, congratulating him on Lebanon's Independence Day.

The Prime Minister also held a meeting with Deputy Prime Minister, Saade Al-Shami, with whom he followed up on the cooperation dossiers with the International Monetary Fund.

Mikati also welcomed at the Grand Serail, the President of the World Union of Arab Bankers, Dr. Joseph Tarabay, and the Secretary General of the Union of Arab Banks, Wissam Fattouh.

After the meeting, Tarabay said that they met with the Premier to invite him to inaugurate a conference that will be held next week in Beirut, on the occasion of the convening of the Executive Committee of the Union of Arab Banks and the holding of a conference dealing with economic reforms in some Arab countries.

Mikati then met with Director-General of State Security, Major General Tony Saliba, and Gen. Saliba's Deputy Brigadier General Hassan Choucair, in the presence of the Secretary General of the Supreme Defense Council, Major General Staff Muhammad Al-Mustafa.

Among the PM's itinerant visitors for today had been MP Camille Dory Chamoun.
more videos
مقابلة مع الرئيس نجيب ميقاتي على قناة المؤسسة اللبنانية للإرسال