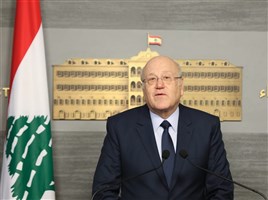 Print
Mikati: Cabinet approved advance of $62 million for electricity sector
Wednesday, Jan 18, 2023
NNA – Caretaker Prime Minister, Najib Mikati, on Wednesday announced in the wake of today's cabinet session that "an advance of $62 million in favor of the electricity sector has been approved," adding that a sum of $54 million has also been allocated for maintenance works.

"Some ministers protested over an array of matters that have to do with the citizens' education, health, and flour," Mikati said, noting that an agreement has been set to hold another cabinet session to discuss these urgent issues soon.

"The cabinet has convened to serve citizens, and I am keen on the unity of the council of ministers," Mikati said, adding that the atmosphere of today's session was "very comfortable".
more videos
الرئيس نجيب ميقاتي في مقابلة على قناة الجديد مع سامي كليب