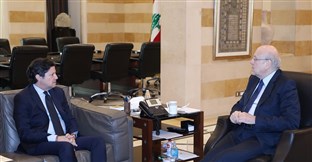 Print
Makary briefs mikati on preparations underway for "Beirut Capital of Arab Media" celebration
Friday, Jan 20, 2023
NNA - Caretaker Prime Minister, Najib Mikati, on Friday welcomed at the Grand Serail Caretaker Minister of Information, Ziad Makary, who briefed him on the preparations underway for the "Beirut Capital of Arab Media" celebration next month.

The pair also discussed a number of issues involving Tele Liban.

The Prime Minister then received "Loyalty to the Resistance" bloc MPs Ali Fayyad and Amin Sherri, with whom he discussed a number of livelihood and social issues. Mikati later welcomed MP Ahmad Al-Kheir, and Beirut Governor, Judge Marwan Abboud.
more videos
لقاء خاص مع الرئيس نجيب ميقاتي على قناة TRT عربي