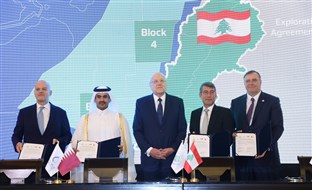 Print
Mikati from Grand Serail: Petroleum activities in Lebanese waters will have a positive impact on companies, provide job opportunities for youth
Sunday, Jan 29, 2023
NNA - Prime Minister Najib Mikati affirmed that "the start of the process of exploration and petroleum activities in the Lebanese waters will have a positive impact, in the short and medium term, on creating opportunities for Lebanese companies interested in the services sector in the field of petroleum, and will provide job opportunities for Lebanese youth, especially for workers in the technical field."

He added: "In the event that commercial quantities are discovered, this will be developed at the required speed and supply the Lebanese market, especially the power plants, with natural gas, which will contribute to growth in the local economy."

Mikati's words came during his patronage of the signing ceremony of "the amended annexes to the exploration and production agreements in Blocks 4 and 9", on the occasion of "Qatar Energy" Company's joining as a partner with the French "Total Energy" and the Italian "Eni" Companies.

He considered that the joining of "QatarEnergy" Company and its acquisition of 30 percent of the exploration and production agreements in Blocks 4 and 9 "constitutes an important and exceptional event in the oil exploration and production sector in the Lebanese marine waters, due to QatarEnergy's global prestige and experience in the gas industry."

Mikati added: "The operator, Total Energy, which owns a 35 percent stake, in addition to Eni, which owns a 35 percent stake, will start drilling in Block 9, after completing environmental surveys and concessions related to drilling and launching logistical activities from the port of Beirut."

He stressed that "the consortium of companies operating in Blocks 4 and 9 will contribute to advancing investments in the energy sector in Lebanon, which is a long-term investment that the Lebanese state will support with good governance and absolute transparency."

Moreover, Mikati deemed that the "Qatari investment in the energy sector constitutes a strategic partnership between Lebanon and the sisterly State of Qatar and opens the way in the future for Arab and Gulf investments in particular, for the benefit of Lebanon and its Arab brothers."

It is to note that the signing ceremony came after a meeting held this morning by Prime Minister Najib Mikati with Qatari Minister of Energy and CEO of the state company "Qatar Energy", Saad bin Sherida Al-Kaabi, accompanied by the CEO of "Total Energy" Patrick Pouyanne, and CEO of "Eni" energy company Claudio Descalzi, in the presence of Energy Minister Walid Fayyad at the Grand Serail.
more videos
الرئيس نجيب ميقاتي في مقابلة على قناة الجديد مع سامي كليب