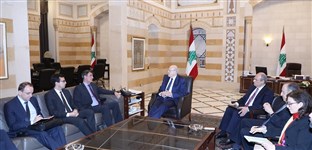 Print
Mikati meets IMF delegation, discusses current conditions with GLC delegation
Thursday, Mar 23, 2023
NNA – Caretaker Prime Minister, Najib Mikati, on Thursday met at the Grand Serail with a delegation representing the International Monetary Fund headed by IMF Head of Mission, Ernesto Rigo Ramirez, in the presence of Caretaker Deputy Prime Minister Saade Chami.

The meeting was also attended by Premier Mikati's Advisor, former Minister Nicolas Nahas.

The meeting touched on the outcome of the consultations carried out by the Fund's mission in Lebanon in the wake of its tour among the concerned officials, in preparation for issuing its evaluation report.

Premier Mikati also met with a delegation of the General Labor Confederation (GLC), chaired by Beshara Al-Asmar. Discussions touched on the current conditions in the country.

On emerging, Al-Asmar said that the visit aimed to praise with the Premier the suffering endured by the people and to explain the catastrophe that the working class in Lebanon is experiencing, whether in the private or the public sector.

Al-Asmar added, "The situation is no longer tolerable," adding that the Lebanese people have become bankrupt in all their sectors.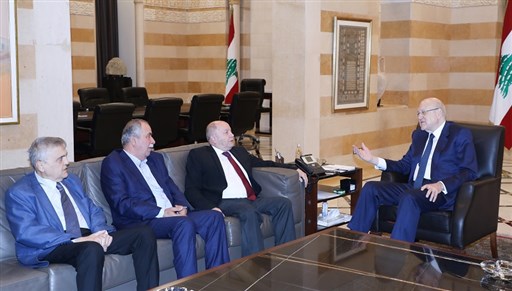 a GLC delegation headed by Beshara Al-Asmar
more videos
كلمة الرئيس نجيب ميقاتي في مؤتمر القمة العربية