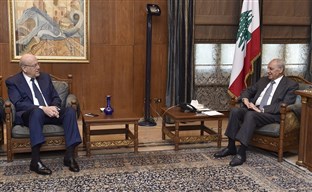 Print
Berri tackles developments with Mikati
Thursday, Mar 23, 2023
NNA - House Speaker, Nabih Berri, on Thursday welcomed at his Ain al-Tineh residence Caretaker Prime Minister, Najib Mikati, with whom he discussed the country's general situation and political developments.

After the meeting, Mikati said, "We've discussed general affairs, especially the topics we intend to address during next week's cabinet session. (…) We've also discussed the tough situation that the country is going through, the scarce public finances, the required revenues, the expenditures, and the public sector's wage increase."

Mikati further underlined the importance of having the House of Parliament approve pending reforms in line with the cabinet's efforts dealing with the country's crises.

The PM added that he saw eye-to-eye with Berri on a number of matters. "I was very honest with the House Speaker about the fact that the situation requires a quick emergency workshop to salvage the country and that the government cannot play its role with a dysfunctional parliament and with the failure to elect a new president," Mikati added, deeming the election of a president "the dole way forward to a solution".

"This morning, I held a meeting with the International Monetary Fund, and we discussed these issues. The draft laws in the possession of the House of Parliament must be approved," Mikati added.
more videos
كلمة الرئيس ميقاتي أمام الهيئة العامة للأمم المتحدة