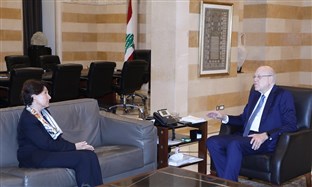 Print
Mikati meets French Ambassador
Monday, Mar 27, 2023
NNA - Caretaker Prime Minister, Najib Mikati, held talks with French Ambassador to Lebanon, Anne Grillo, whom he met at the Grand Serail on Monday.

"I discussed with PM Mikati the current situation in the country," said the diplomatic following the meeting.

"We agreed that there is a pressing need for dialogue, as well as for regulating the work of institutions, electing a president of the republic and forming a new government," she added.

"The deterioration of the livelihood conditions of the Lebanese people require us to be capable of responding to all their needs," she went on saying.

"We also agreed that the situation has become urgent and dire, and that initiative must be retaken on the basis of constructive dialogue," she stressed.
more videos
كلمة الرئيس نجيب ميقاتي في مؤتمر القمة العربية